Sportsbook Payouts - Cashing Out Your Winnings
Next to betting on an exhilarating game, collecting the money from a successful wager is the best part about sports betting. The new wave of legal sports betting sites for USA players offer numerous payout options that can deliver winnings very fast and without much hassle. Each site offers a varying amount of payout options, some fast, some slow, but all secure.
This article will explain all facets of USA sportsbook payouts that are available on the leading sports betting sites. We will explain the legal side of withdrawals, the individual payout methods, as well as which sites offer the best all-around sports betting experiences.
Can USA Sportsbooks Payout to my Credit Card?
The Unlawful Internet Gambling Enforcement Act (UIGEA) of 2006 was supposed to restrict electronic funds from transferring overseas directly into a credit card account. However, most of the best USA sportsbooks will have this as an option as long as you used the same card to deposit. This small hindrance only means that it will take a little longer to receive a payout. The laws that surround online sports betting do not prosecute average sports fans that want to bet on their favorite games, they merely provide a small inconvenience when attempting to collect fund from a sportsbook account.
Is It Legal To Receive a Sportsbook Payout?
It is 100% safe to receive payouts from legal USA sports betting sites. The UIGEA does not attempt to restrict players from using valid online sportsbooks. The only restriction lies in how you receive payouts. They can't go straight to a credit card, which is why sites offer a myriad of other safe options.
Sportsbooks avoid using electronic fund transfers, instead opting to use methods like a good old-fashioned check in the mail. This isn't the only option; we will reveal all of the payout methods further down the page. There are many ways to collect your winnings at the many legal sports betting sites for USA players.
Processing Times With Payout Methods
The processing time for receiving your money will vary with each payout option. Checks are scheduled to take up to two weeks, however many members receive theirs within a few days. Other methods such as bank wire transfers usually take around a week, while some of the newer options like Bitcoin take less than 48 hours. It's important to preach patience when dealing with a US sports betting site. Requesting a payout involves moving money over foreign borders, which can often include currency exchanges. The best advice we can offer is not to get yourself in a situation where you're relying on having a sportsbook payout immediately. This should help to reduce the stress in your life drastically!
Processing Fees With Payout Methods
Because of the stipulations and hardships involved with international exchange, most payout methods will charge a small fee. The fee will reflect the amount of the payout, and the speed with which it is delivered. These small inconveniences are necessary to keep these legal US sports betting sites running. Each site works hard to keep the fees as low as possible. The fees will appear as small as 2% of the payout, and up to $75 for some of the larger payout methods.
Minimums/Maximums on Payout Limits
There are limits on how low and how high your payout amount can be, depending on the method. Transferring funds overseas is expensive for the site, so they will require minimums on the payout methods. In order to remain in accordance with inter-country exchange laws, the sites must also create maximum payout amounts. Depending on the method, minimum payouts can be as low as $20, or as high as $500. Maximums go as low as $500, and as high as $25,000.
USA Sportsbook Payout Methods Pros and Cons
Sportsbook Payouts Using A Check
Pro: Checks are the most popular way to payout because they are reliable, and there are low fees. The average fee for a check is $10 to $15, but most sites will allow one free check payout per month. This free payout is usually more than enough for most players.
Con: The wait can be a little long. Checks usually arrive in a week or two, but can occasionally take up to a month. This doesn't bother most people, but if you don't want to wait, other options are faster.
Rapid Transfer (Western Union, MoneyGram, etc.)
Pro: Rapid transfers are fast, taking usually less than a week. This method is great for those that want their cash in their hands fast.
Con:The fees can be steep. The fee reflects the amount that is withdrawn, and can range from $20, to $75. We recommend this option for large payouts only. Again, putting yourself in a situation where you're relying on an instant payout from your sportsbook is a dangerous proposition.
Money Order Sportsbook Payouts
Pro: Money orders are similar to checks, and the small fees are the best part. This is a great method for medium-large payouts and some sportsbooks like 5 Dimes have some large limits that allow you to cash out up to $7500 a week. This method usually gets to your door within 2 days or so.
Con: The minimums are high for money orders. It can range from $100 to $500, making this a bad option for small payouts. There is also no "one free one per month" option with money orders.
Pre-Paid Card Sportsbook Payouts
Pro: These ATM only prepaid cards arrive quite fast, usually within 3 to 5 business days. This is a great way to get paid fast.
Con: The flat fee is $25, which can be steep depending on how much you withdraw. This isn't the most popular method, but can be great for medium sized payouts.
BitCoin Sportsbook Payouts
Pro: This relatively new payout method is becoming very popular because it is fast, and simple. Bitcoin payouts arrive to your Bitcoin account within 48 hours. This is a great way to receive small to medium sized payouts.
Con: The Bitcoin payout method is "subject to availability", and can occasionally go out of service. This is rare, but can sometimes be annoying if you want that payout quickly, or if you use Bitcoin exclusively for your sports wagering.
Best Sportsbook For Easy Payouts
We have covered all you need to know about payout options for the many legal USA sports betting sites. The UIGEA restricts credit card payouts, but there are still many safe and fast options available. Processing times and fees are included to take care of exchange rates, and international laws. In addition, minimums/maximums are in place to keep the sites in accordance with the trade laws.
We searched all over the web for a site that offers the greatest payout options, as well as a phenomenal sportsbook. The unanimous decision fell on the site that we reviewed. Of all legal US online sportsbooks, this one offers everything a sports fan could want, and more.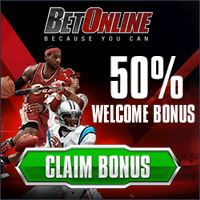 Easiest Sportsbook Payouts For US Players
BetOnline Sportsbook
BetOnline has been a leader in the sports betting game for over a decade. More Americans use this site than any other sportsbook because it offers excellent payout options, and unparalleled odds and expert predictions. Players can receive their winnings in numerous ways. The most popular payout is method via check in the mail. BetOnline promises delivery within 30 days of the initial request, but most players report receiving their payment within a week. The site also offers Bitcoin, bank wire transfers, NETELLER, Book to Book, and more. If you like to get your money fast, BetOnline can't be beat.
This site is consistently rated one of the best sportsbooks for USA players, as it is packed with rewards for loyal customers that will keep on giving throughout their stay at BetOnline. There are Welcome Bonuses, live betting free plays, lifetime guarantees, mobile betting free plays, and much more. The live betting free play will pay your $25 if your first bet loses. There's never been a better time to bet on a game while it unfolds in real time at BetOnline.ag.