MLS commissioner Don Garber Comments On Legal Sports Betting
Don Garber "Very Open to understanding how to get more engaged" in Sports Betting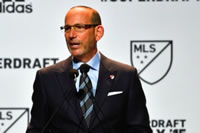 At the recent SXSW conference, MLS commissioner Don Garber threw in his support to the growing group of those who are in favor of legalizing sports betting in the US. In a cozy fireside chat with Grant Wahl, Garber was asked where he stood on the issue of sports betting. Garber enthusiastically voiced his support for the legalization and regulation of sports wagering, wholeheartedly saying "I'll join the chorus of saying it's time to bring it out of the dark ages. We're doing what we can to figure out how to manage that effectively."
Garber is the third Commissioner of a professional sport in America to come out and publicly say that sports betting needs to be re-examined, behind NBA Commissioner Adam Silver and MLB Commissioner Rob Manfred. While Manfred hasn't fully come out in support, he has maintained that the issue needs to be looked at again. In recent months, he has opened up a lot more to questions that reporters have had regarding the topic, as well, speaking on the topic multiple times as spring training opened.
How Do Garber's Statements Impact The Discussion of Legalizing Sports Betting?
Aside from just adding more legitimacy and extra support for the reexamining of sports betting, Garber's statements at SXSW show that there is a real reason to get on the right side of sports betting in the United States. With the advent of online gambling, it's almost impossible to keep people from betting on sports online. In Garber's words, "We have a project going on now to really dig in deeply and understand it. I'll…say I'm very open to understanding how we can get more engaged in this market in a way that I think if done properly, can be regulated and managed and controlled."
How Much Money Would Legalized Sports Betting Bring In?
If the laws preventing sports betting in the US were to be revised tomorrow, presenting guidelines and authorities to regulate the activity, it would open US casinos and other gambling facilities to a new and incredibly lucrative side of business allowing the best USA sportsbooks to open up. Online sports betting done in the US at offshore websites totals an estimated $400 billion a year. That's hundreds of billions of dollars that aren't be taxed, costing states money they could, in part, use to help bolster flailing economies.
So What Does All This Mean For Sports Betting In The US?
This may not seem like the biggest news of the day, but MLS Commissioner Don Garber adding his support adds legitimacy to the issue at hand. Really, it helps aid the growing movement to change the primitive sports betting laws in the US. With the MLS, there are now three major professional American sports commissioners that are advocating for change. Professional Golf's Commissioner Jay Monahan has also voiced that the organization would be open to discussing the topic further. It can only spell good things for the future of legal sports betting in the US with so many prominent figures finally ready to approach the topic with a more receptive mindset.